Traditionally, our clients have predominantly used classroom style training, but times are changing. In the current economic climate, companies are looking at ways to reduce training costs, but retain quality, consistency and flexibility. Both monetary and time investment can make classroom-based training a very expensive option, particularly when there are several people to train all at different levels, requiring multiple training courses.
This is where e-Learning from Base 3 Systems can help.
Ultimately, we are providing our clients with a continuous training solution that:
Can be accessed on desktops at any time and at a moment's notice
Speeds up productivity since trainees have immediate access to a full range of training courses and tips & techniques that can be accessed via our online search facility
Offers quizzes which are built into courses to check levels of understanding before progressing.
Removes the need to 'ask colleagues' for help, thus improving productivity, efficiency and coding consistencies
Enables a consistent approach to training across the company
Means users do not all have to be at same geographic location.
Courses are updated and maintained in line with SAS® version upgrades, meaning that when there is major changes in courses, our clients will automatically have the new version available as part of an on-going licence.
Training is split into concise sections, that users can work through at their own pace.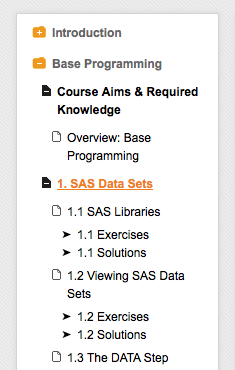 Each section contains examples to practise, with a full explanation to enable trainees to completely understand the subject matter.